Pastor and Staff

B Mark Anderson, Pastor
Pastor Mark grew up on a dairy farm in Oregon where he was active in church as a young boy, participating in the local Luther League.
He graduated from the Lutheran Bible Institute in Seattle, and also from the Pacific Lutheran University in Tacoma, Washington. He continued his education at the Lutheran Theological Seminary in St. Paul Minnesota, where he received his Masters in Divinity.
Mark married his wife Kari in Marshall, Minnesota where he ministered for some time. He also pastored a church in Pine Bluff, Arkansas for 2 ½ years before coming to Church of the Living Water in 1976 as the pastor.
Mark & Kari have seven children and five grandchildren.
Mark has also spent time ministering abroad in Germany, Switzerland, Austria, Turkey, China, Canada, England, Argentina, Mexico, Norway, Romania, Malawi and India.
He claims pastoring is the 2nd greatest job in the world; the 1st is raising a family!
He loves to brag about The Church of the Living Water saying "I pastor the most wonderful church in the world. The people here are awesome!"
Sign up for Mark's blog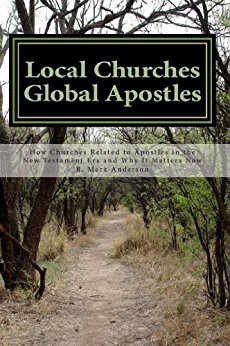 Pastor Mark's book Local Churches Global Apostles How Churches Related to Apostles in the New Testament Era and Why It Matters Now is available for purchase on Amazon. You can choose either a Kindle or hardback copy. Soon available in Spanish.
God is using this much needed book to inform and liberate both pastors and churches from binding misconceptions of the past. Do you or anyone you know of still speak of "apostles who oversee churches?" Or "Which apostle are you under?" If so you need this book!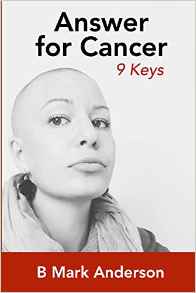 Death came knocking on his door -- but Anderson refused to open. Stage 4 inoperable cancer crept away in defeat. Answer for Cancer: 9 Keys invites you also to triumph over this cruel invader. Soon available in Spanish.
In Part One, Anderson tells the story of his trauma, his near-death experiences, his ignorance and naiveté regarding medical treatments, his foray into alternatives, and finally his happy outcome. Through it all, Anderson's "funny bone" survived intact. (Have you ever heard of this home remedy for cancer? Drink your own urine! Seriously!)
Part Two relates nine keys that anyone can use to overcome most cancers. Some keys may surprise you. "Get a health coach, but not your doctor." (Chapter 1) "Chew your way to recovery." (Chapter 8) "Diet without detox is deception." (Chapter 9)
In Part Three, Anderson credits meditation on God and the healing portions of the Bible as a primary reason he is alive today. He outlines eight parallels between natural medicine and the medicine of God's Word. "Just take your medicine and faith will be there when you need it." "God's very nature is healing. Fish swim, birds fly, God heals," asserts Anderson. (Chapter 16) "Healing is not only God's will -- it is His pleasure." (Chapter 17) Answer to Cancer: 9 Keys tells more than one man's story. No matter where you are on the road to health (or even if you're not on the road, but helpless and hopeless by the roadside), here's the practical information you need to overcome this killer disease.
Cancer is not a death sentence. Get the book. Get the keys. And get the inspiration you need to succeed on your quest for life.


Mark's love of Eggnog inspired him to create a bunch of exciting, Eggnog Recipes: Eggnog Lore and Recipes Galore
Eggnog Recipes is a one-of-a-kind recipe ebook. There's not another like it anywhere. By taking the art and science of the incredible edible egg to mouth-watering heights, you will find more than 50 non-alcoholic eggnog recipes suitable for any day of the year.
Throughout much of history--and especially in early America where milk and eggs were staple items on family farms--egg nog was an everyday drink. The author restores this bit of heritage by giving both vintage and original recipes for eggnog. "I grew up drinking eggnog," the author asserts. "To this day we enjoy eggnog for breakfast nearly every day."All of the 50 plus recipes can easily be made at home. Even a child can make most with minimal or no supervision.
One or two of the recipes call for alcohol. However, spirits may be added to each recipe if you choose.
Research studies verify what everyone instinctively knows--breakfast is good for you! Now there's no reason for you or your kids to skip this important meal. Get Eggnog Recipes and you'll find out how to prepare a variety of breakfast eggnogs you and your kids won't want to miss.
Eggnog Recipes will eggs-ceed your egg-spectations! The holiday recipes are eggs-quisite; yes, even egg-stravagent. The multiple eggnog-for-breakfast strategies are egg-straordinary. Ever tried breakfast with eggnog? It's quick, easy and egg-stra healthful.Enjoy the book, try the drinks. You'll most likely lick your chops and eggs-claim, "Wow! Eggs-ceptional! Out of this world!".

Tom Lee, Elder, Minister of Music

Tom grew up in North Dakota, and accepted Christ as a young boy. In his family, there was always lots of music: piano, guitar, accordion, brass instruments, and singing, so he developed a love for music early on.
His college training was in music education, and he has been teaching choral music, first in Minnesota and now in Iowa, for 31 years. Music as an expression of worship has been part of his life since his early years.
Tom is married to Marcia and they have four children and eight grandchildren.
Tom has been minister of music at CLW since 1979 and says, "It is so exciting to be a part of all God is doing in and through the Church of the Living Water."

Bernie Blaskowski, Elder, Coordinator of Ministry Team

Bernie Blaskowski was born and raised in Winona County in Southeastern Minnesota. He was the fourth of eleven children.
The every day, morning and evening, daily chores on the family dairy farm taught Bernie the value of faithfulness.
Every Sunday morning would find the Blaskowski family (all thirteen of them!) loading up the family's '62 Country Sedan station wagon and driving to church.
But it wasn't until Bernie went to college that he came to understand that God was more than a set of rules.
During his second year of college, two fellows came to Bernie's dorm room and explained to him the need to be "born again." Bernie understood his need, and in 1977 he prayed for forgiveness and became a part of the family of God.
A job opportunity brought Bernie to Muscatine in 1981. He has been a part of the Living Water fellowship since first moving here.
He met his lovely wife, Sheila, at Living Water. They got to know one another well while a part of an active singles group in the church. (Was Sheila really behind the snake that was found in Bernie's sleeping bag on that memorable canoe trip??)
One year and two days after their first date, they were married. They now have seven children, whom they home school. What a rich family life they have.
Bernie loves being a part of the Church of the Living Water. Even though he is not naturally a very demonstrative person, he has been known to do a few dance steps, participating in our lively worship.
"God has really used Living Water to bless me," Bernie expresses. "Every Sunday I come, and He's still here." A testimony to both Bernie's and God's faithfulness.


Ethan Anderson, Elder

Ethan is the founder of Big Imprint and the brains behind the business. He's a graduate of the University of Iowa with a BBA in Marketing. Ethan started Big Imprint in 2009.
Heavily involved in the local community, Ethan previously served on the West Liberty City Council and as President of the Rotary Club of West Liberty.
He and his wife Bethany live in West Liberty with their three young children Liliana, David, and Simon.


Brian Dobony, Deacon

Brian is a young man seeking God and God is using him.
Brian's area of deacon responsibility is technology. He's highly gifted in computer science and technology. He's in charge of the sound room and video production.
Anyone wishing to further God's kingdom in these areas should contact Brian.
Brian is married to Abigal and the father of five children

Gary Lange, Treasurer


Gary was born and raised in Minnesota. That explains the fervent support of the Minnesota Vikings, but what remains unexplained is Gary's equally fervent love for Taco Johns. Is he part Mexican, or just taken in by those steaming potato oles?
Gary is an engineer with the Hon Company. A dedicated volunteer for Habitat for Humanity, on Saturdays you will find him managing the construction of Habitat's latest housing project. He also boards horses at his farm just outside of Muscatine. Most members of the Church of the Living Water are familiar with Gary's home, as the grassy area beside his pond has been the location of many a summer party.




Toni Chandler, Intercessor & Prayer Meeting Leader

Toni Chandler is an ordained minister and hosts a weekly prayer meeting in her home.
She is married to Ron and they have three grown children and grandchildren.

Return to top of Pastor and Staff page
Return to About Us page
HOME to Living Water Muscatine Ripples with Life